Press Releases
BRAINHAT INTRODUCES NATURAL LANGUAGE OPERATING SYSTEM
English-Programmed OS Uses Natural Language To Dispatch Tasks,
Answer Users' Questions, and Drive Robots and Other Processes

EAST HARTFORD, CT (July 7, 2001) — Brainhat Corporation today announced a natural language operating system that can be programmed in English, serve as a clearinghouse for English-based events, intelligently interact with users in automated question-and-answer environments, and direct the operations of robots and other processes through English-based commands. The Brainhat OS is now available in beta form, with interfaces for English, VoiceXML and external processes. Significant enhancements are scheduled to be released later this year.

The Brainhat operating system addresses the need for knowledge-based "conscious computing" that can replicate human thought more closely than traditional sequential programming. Programming with the Brainhat system involves creating a vocabulary for the desired application, building scenarios to facilitate reasoning, and other activities designed to establish a knowledge base that can be used to perform functions ranging from launching tasks to evaluating ideas.

The new OS can improve the ability of automated personal assistants, kiosks, switchboards, help desks and other applications to respond to user inquiries by equipping those systems with the power to understand and reason in English. It can also simplify programming for computer and robotic tasks by permitting software engineers and robotic technicians to express commands in natural language rather than algorithms. In addition, it can enable like systems and machines to communicate among themselves in English.
Raising the Bar in Artificial Intelligence
"Automated attendants and other forms of computer-based interaction are common today, but until now every automated system had to follow a script," said Brainhat President Kevin Dowd, developer of the operating system and author of High Performance Computing and Getting Connected: The Internet at 56K and Up. "With the ability to observe, reason and draw conclusions, the Brainhat OS is an important advance in knowledge-based processing that will enable users to have a conversation with automated systems on a human level."
Potential applications include:
· Intelligent email or instant messaging agents capable of handling text queries such as "Did a package come for me?"
· Automated call attendants that can answer questions such as "Is Joe Jones there?" or "Can you give me your fax number?"
· Interactive auditory guides for museum exhibitions that allow visitors to ask questions such as "Why is the statue's head missing?" or "Why did Van Gogh cut off his ear?"
· Command processing for industrial robots, including the ability to send multiple messages asynchronously without sequencing.
· Interfaces permitting two phone systems to schedule a meeting or perform other functions without human intervention.
Specifications and Availability
Brainhat supports Linux and Windows 98/NT/2000. It comes with a SAPI Version 5 speech recognition/speech generation client that works with select SAPI-compliant speech engines, including Dragon and Via Voice. It also supports Voice XML, a standard that extends HTML to permit online voice interaction, and includes an API that supports extensions permitting interaction with robots and other external processes.
The beta version of the Brainhat operating system is now available for download at www.brainhat.com. Brainhat Corporation will provide co-development services on a contract basis to help beta users produce the knowledge, vocabulary, grammar and interfaces for their application.
About Brainhat Corporation
Brainhat Corporation is dedicated to the advancement of knowledge-based, natural language computing that allows humans and machines to interact in a more natural manner. Its Brainhat operating system provides the first platform to bring natural language programming and a natural language interface to commercial markets. The privately held company is located in East Hartford, Connecticut. For more information and online demos, visit www.brainhat.com.
PRESS CONTACT:
Steve Simon
847/955-7730 ext. 237
steve1@sspr.com
A.I. -type world is coming soon
cleveland.com - 7.09.2001 -Chris Seper
Brainhat television coverage: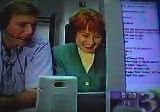 Channel 3 News - 7.03.2001

Click on Image to play video (12.3 mg)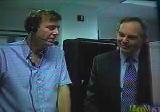 Channel 61 News - 7.03.2001

Click on Image to play video (9.1 mg)